Residential & Commercial Concrete 
Biordi Concrete has the experience and skills to deliver any type of concrete project. Our goal is to start and finish a quality service with no down time or delays. Biordi's supervisors, technicians, and support personnel have decades of accumulated experience and knowledge that homeowners can count on.
If it's made with cement, we can build it. Whether it's a new bluestone patio or a brick or paver driveway, we can handle it. Biordi can replace concrete walkways and porches, construct new brick and bluestone stoops, and even restore pool areas so they are safe and sound. We can also efficiently remove and replace any sidewalk violations that has been given by the city.
Biordi's residential masonry services include:
Concrete Sidewalks
Concrete Curbs
Colored Concrete
Pavers
Brick Work
Stone Steps
Sidewalk Violation Removals
What is a sidewalk violation?
A sidewalk violation is an official notice issued by DOT stating that your sidewalk is defective. There is no fine associated with a violation. A copy of the notice is filed with the County Clerk and remains on file until the Clerk receives official notification from the City that satisfactory repairs have been made. A violation can complicate selling or refinancing your property.
The City issues sidewalk violations in order to encourage property owners to repair their sidewalks to enhance public safety. Property owners are encouraged to perform repairs to their sidewalks before a condition becomes a defect which would give rise to a violation. Upon failure of a property owner to remedy the sidewalk defect cited in a violation issued by DOT after an inspection, DOT may perform the work or hire a contractor to perform the work and the Department of Finance will bill the property owner pursuant to Section 19-152 of the New York Administrative Code.
If you do not perform repairs within 45 days, DOT may perform the work or hire a contractor to perform the work and the Department of Finance will bill the property owner.
How do I correct a sidewalk violation?
Hire an Experienced Contractor (Biordi Concrete)
Biordi Concrete is a premier service provider for a variety of important services, including New York City sidewalk repairs. Anyone who is familiar with the NYC area knows how important our sidewalks are here. They are just as important as our roadways, if not more so.
Addressing the need for sidewalk repairs in New York City must be handled in a prompt and professional manner, and in strict accordance with industry codes and guidelines. Biordi Concrete 100% guarantees violation removals; and will also handle all necessary paperwork associated with the completion of the removal of the violation.
What are the risks of having open sidewalk violations on a building?
The DOT has stated that if repairs are not made within the required timeframe (45 days), they may perform repair work themselves or bid the work to an approved contractor.
The cost of the work will then be added to the lot's property taxes, and become a lien if unpaid. Failing to satisfy these violations may also result in difficulty during a property transaction or refinance. An owner may also be held liable if anyone injures themselves on the unrepaired sidewalk.
Basement Waterproofing
Basements are inherently prone to flooding. They are the lowest level of a building, typically built partly or entirely below ground level.  So, it is only natural for the water in the ground to find its way into the basement and create leak that can cause a flooded basement. That's where basement waterproofing comes in handy. In my cases. Groundwater builds up next to your home causing hydrostatic pressure on the foundation walls and it is able to find its way in through a multitude of entry points.  Here are some common crack types: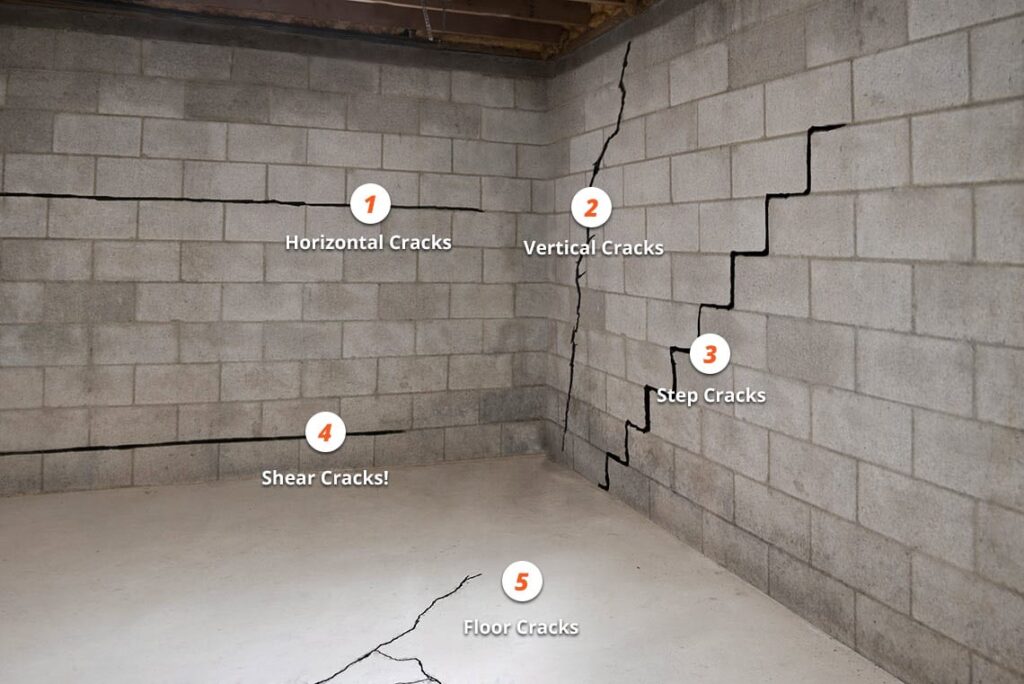 The good news is, this problem can be solved with the help of Biordi Waterproofing Specialists.  Our Job is to pinpoint the location of the water issues, and use our waterproofing strategies to ensure a dry basement. Some of these waterproofing strategies include but are not limited to: Crack sealant using hydraulic cement (Water plug) , a French Drain System, Outside Excavation etc..
Experienced, knowledgeable Biordi professionals will install one of these basement waterproofing systems with close attention to detail. They work as cleanly and efficiently as possible!